I love the buzz of a big crowd.  It's exciting to soak up the atmosphere created when lots of people are all in the same space at the same time.
If you're lucky enough to be the band, or sports team or speaker who is the focus of the crowds attention, then that is quite powerful.
(Or terrifying, I suppose, depending on their mood!)
If you design or develop software it's much harder to get feedback like this.
But, it's still useful to think of crowds to help you visualise the audience of people who are using what you're building.
This was the idea behind the photo I use in the header this site.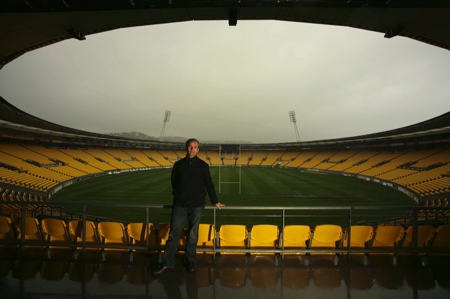 These come from a 2006 article about Trade Me in Idealog, and were taken at the Westpac Stadium in Wellington on a wet and wild day (hence the slightly damp windswept look and the Icebreaker jacket).
The stadium seats about 35,000 people when it's full.  At the time there were about that many people online at once every evening on Trade Me.
(As I type there are over 80,000 online, showing how much it has continued to grow since then!)
When you think of that many people all in one space together, and the noise and activity they generate, it changes the way you think about the people using your site.
One of the things that software developers do all the time is dismiss a percentage of their audience as unimportant for one reason or another, without thinking of them as a distinct group of people.
If you don't think you need to worry about people stuck using IE6 (for whatever reason) or a dial-up connection, or people who struggle to read small fonts, or people who are colour blind (or completely blind), or people who don't know how to use a command line, or people who are still nervous (paranoid or otherwise) about entering their credit card details into a website, or people who want help from a real person, or people who use Firefox on a Mac … because on a percentage basis they are not that many … calculate just how big that group is (take your unique visitor count and multiply by the percentage, however small), and then imagine standing up in front of that group and telling them to their face that they don't matter to you.
If you don't think it's a big deal for your site to be broken or off line while you make changes … think of all of the people who happen to be visiting at that point and imagine what it would feel like to have them all in the room with you while you flick the switch.  No matter how small the number it would probably feel like a lot of people.  And, you might be motivated to get the site back up more quickly if they were all standing behind you impatiently looking over your shoulder.
You can use the same technique to help put other numbers in perspective.
It's amazing the difference it makes when you start thinking of your metrics as real people.
For example…
2 people = your mum and dad!
5 people = a car full
15 people = a rugby team
30 people = a school class
100 people = a bus full
120 people = a parliament full of MPs (actually 122, to be precise)
380 people = all of the passengers on an Air NZ 747-400
550 people = the audience at Webstock earlier this year
1,500 people = capacity of the Aotea Centre in Auckland
2,500 people = all of the students at Auckland Grammar school
6,000 people = capacity of the TSB Arena in Wellington
10,000 people = population of Gore 🙂
12,000 people = capacity of the Vector Arena in Auckland
18,000 people = all of the students at Otago University
20,000 people = population of Levin
25,000 people = the crowd at Augusta National each day this week
35,000 people = capacity of Westpac Stadium in Wellington
60,000 people = capacity of Eden Park in Auckland, post-renovations
100,000 people = capacity of MCG in Australia (also, incidentally, approx. the number of people who voted for NZ First at the last election)
250,000 people = capacity of St Peter's Square in Rome
475,000 people = population of greater Wellington region
Etc, etc.
Help me out with some more examples…