I receive a PowerPoint slide deck via email.
I double-click to open it and get this error message: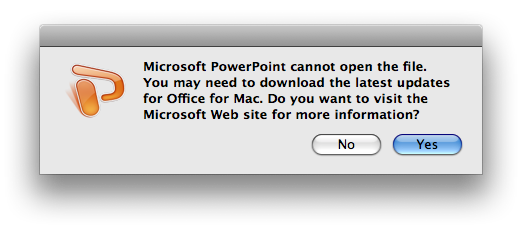 That's a bit confusing.  It was just a couple of days ago that I was rudely interrupted by Microsoft AutoUpdate.  I had stopped whatever it was I was trying to do at the time to wait for the update to download and install (I've learnt from previous experience that it doesn't like running in the background, and insists on constantly grabbing the focus, so I just waited while it did its thing).
Anyway … what to do?
I click "Yes", and end up on a Mac Office 2008 support page headed:
I can't open an Office document after I install Office 2008 SP2 Update
Looks promising.
"This is a known issue with Office 2008 for Mac Service Pack 2 (12.2.0) that prevents some Open XML Format files from opening."
In other words, the problem is because I have the most up-to-date version.
They promise a fix at some point in the future, but that's not much use to me right now.
There are however eleven different possible solutions listed.
The first two start "Save your Excel workbook…".  So, clearly this is not just a problem with PowerPoint, but you would think they could have at least had a custom error page for the specific application I was using.
The third "solution" is: "Save your PowerPoint presentation, such as .pptx, .pptm, or .potx, by using 2007 Microsoft Office Suite Service Pack 2 (SP2) for Windows."
All well and good, but it's not my file and I don't run Windows.
The fifth solution is: "Save your document to .doc, .xls, or .ppt format by using Office 2008 for Mac 12.1.9 Update or an earlier version."
(the fourth, in case you're counting, is another Excel only solution)
And so on…
My second favourite recommend solution, further down the list is: "Use the AppleTime Machine to roll back to Office 2008 for Mac 12.1.9 Update or an earlier version."
But the best, by some distance, is this one: "Remove Office manually, reinstall Microsoft Office 2008 for Mac from the original installation media, and then upgrade to Office 2008 for Mac 12.1.9 Update. Do not upgrade to Microsoft Office 2008 for Mac Service Pack 2 (12.2.0) from Microsoft AutoUpdate."
I kid you not!
At the bottom of the page is a customer survey:

I click "No" and then try to open the file in Keynote.
It just works … first time.