These are two dumb billboards: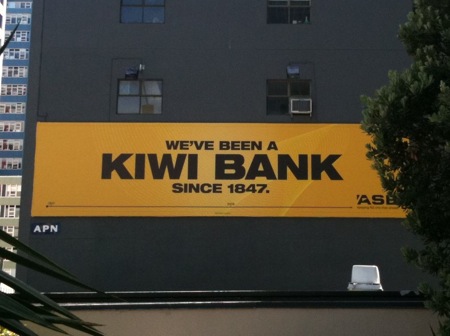 ASB is not a kiwi bank.  They were sold to Commonwealth Bank of Australia (as the name would suggest, a publicly listed Australian company) in 1989.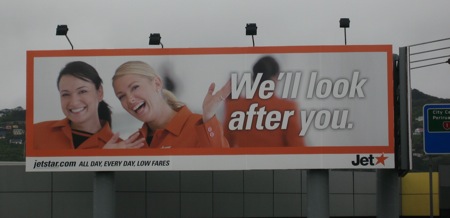 Eh? Nobody picks JetStar because of the quality of the onboard service.  They are a discount airline – cheap and cheerful.
Why do they choose to highlight the exact things they are not?
Both obviously feel they need to respond to their competitors' advertising.
Kiwi Bank nicely mocks the "Australian banks" in their ads.  And, Air New Zealand has done well to position themselves as the slightly-more-expensive-but-worth-it alternative, by highlighting all of the hidden extras that are not included in the discount airlines' prices.
So, what should ASB and JetStar do?
Why not focus on the things that are important to customers that they actually are.
JetStar just needs to highlight their prices and ask the question: "how much are you paying for that tiny lolly mix?" or "how much are you paying for those airpoints?"
ASB is a more difficult example, because, it seems to me at least, that Kiwi Bank has them on most of the areas that customers care about.  Perhaps the long slow queues at Post Shops, including people trying to send their Trade Me parcels, is one area of weakness to focus on?
Either way ASB need to stop talking about the things they used to be – kiwi owned, leaders online (where is the ASB iPhone app?), etc – and find a current point of difference.
Whatever happened to BankDirect, I wonder?  They had a great brand, but it seems to have been left to rot on the vine recently. I remember one ad with attitude they had years ago which said something like: "Our credit cards are black, because we think they look cool" – it convinced me to switch!
This is just another good example of something that smaller companies seem to find much easier – talk straight and be yourself.