This is not new, but it's worth repeating:
Predicting rain doesn't count. Building an ark counts.
It's not enough to know what to do, think about doing it, put it on a list. It turns out that all of those are very common.
The only thing that separates you from the pack is actually completing things.
To be successful, it seems, you just have to do the things that most people don't. And, unfortunately, most people don't do much.
So, how do you get better at this?
At the end of 2007 I published a post here titled De-clutter. It has become one of the most read things I've written. It was a simple list of advice, and included this tip:
Remove the chaff from your to-do list, and focus on the three or four really important things that you can achieve today.
The link I included was to a blog post written by Marc Andreessen (the founder of Netscape) which is unfortunately no longer available online. However, I found this Lifehacker article about it which includes all of the important quotes:
Each night before you go to bed, prepare a 3×5 index card with a short list of 3 to 5 things that you will do the next day. And then, the next day, do those things.
Once you get into the habit, you start to realize how many days you used to have when you wouldn't get important / significant / meaningful things done during a day.
I think that is a really elegant and simple idea, and pretty much the polar opposite of every productivity system and to-do application I've used. Rather than combining more and more complex ways of capturing, storing, sorting and retrieving lists of tasks it starts with a focus on completing important things.
And so, I'm pleased to announce Top Three for iPhone, a new app that replaces the index card and helps you change the way you manage your priorities. Every day you get three new slots to fill. Choose the most important things and tick them off as you complete them. At the end of the day, or the end of the week, look back and see how many of your priorities you actually completed.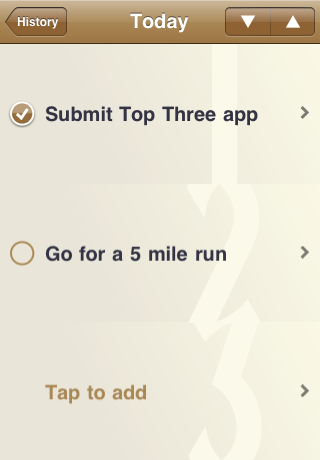 View today's tasks
Add a new task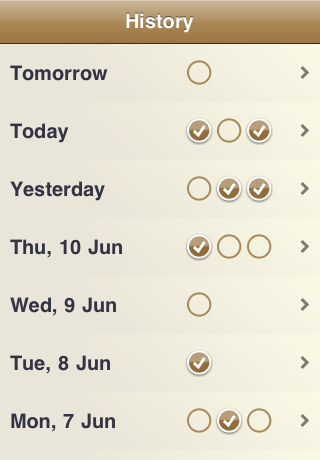 See how you've done
This has been an interesting app to build, not because it's technically difficult but because it's functionally simple, and as a result there is a constant temptation to add more features. I've intentionally left out just about all of the things that you'd normally expect from a to-do app. It doesn't let you tag and categorize, it doesn't let you search, it doesn't let you order and re-order (beyond the three slots you see), it doesn't let you set due dates and it doesn't let you schedule tasks for far into the future - you can add and edit tasks for today and tomorrow and that's all. There are literally hundreds of to-do apps in the app store, and this may be the most simple of them all, but I'm hoping that it's amongst the most useful as a result.
I've been using this myself for a few weeks and while it's a v1 app I've already found it really useful. It has been humbling and a little surprising when I look back to see that I've only ticked off about half of those things that I thought were the most important. But the feedback loop that it creates is also motivating me to get better at picking the things I want to work on and staying focussed on completing them (did I mention I'm a big fan of feedback loops?)
I have some free copies to give away to the first people who email support@southgatelabs.com - I just need you to tell me what your existing to-do app is (if any) and also promise to send me some feedback telling me what you think of it once you've been using Top Three for a week or two and to post a review on the iTunes App Store, positive or negative - you decide (note: these codes are valid in the US App Store only).
Either way, if you decide to download the app and use it I'd love to hear from you. I hope you find it useful. Thanks in advance for giving it a try.
Related Reading:
Hugh's Daily Quota - Hugh McLeod
"I try to complete four basic tasks every day- the basic M.O. to keep the gapingvoid ship afloat."
Kill Your To Do List - Leo Babauta
"Those who have to-do lists usually manage them constantly, or if they don't they fall into disuse and get dusty and become worthless, while the person who's fallen behind in maintaining the list feels constantly guilty. For those who keep up with the lists, they spend a lot of time on the lists they could be spending … doing something important."
TimeGT: Method-Agnostic Time Mgmt App for the Masses - LifeHacker
TimeGT is an excellent example of everything Top Three is not:
"Adding tasks is a simple affair, and they're easily sorted and searched once they're in your system. Hunt around for action items via tag, context (@home, @work), order of importance, or deadline. Filter tasks according to project, urgency, things your waiting for, or things you hope to get around to one day—the sky's the limit."
Productivity Hacks - Fred Wilson
"I've never been able to make a "to do" list work for me because it gets so damn long I can never get them all done. I really like the idea of three a day and no more."
Voice Mail, Folders and To-Dos - Mark Suster
"If you really want to accomplish tasks you need to narrow down the list to the most important ones you want to accomplish and make sure that they take priority to everything else that "comes up" during the day. If you get 3 things done every day it adds up to a lot more within the month."