2011 Annual Report
I said that 2010 was about "laying foundations (literally and figuratively)".
In 2011 we got busy with walls etc!
The literal foundations were a new place to live now under construction near Nelson. This has already been a long project – nearly four years, and counting. It's a bit unusual for me to stay focussed on something for this long. It's been very satisfying seeing the development progress from the original idea, through lines on a page, to something now physically taking shape.
We're looking forward to re-locating in March/April. It's going to be a big change.
The figurative foundations were Southgate Labs. I've throughly enjoyed working with Amnon and Koz. Towards the end of the year we were excited to add Nick and Amanda to the team.
Our first investment, Vend, has had an amazing year. Once a startup has momentum like this is when it really gets to be fun. The business has scaled quickly and added hundreds of customers around the world. Vaughan has grown into his role as CEO – he's hired a great team in Auckland and San Francisco and it's exciting to be a part of that. It's my first experience as Chairman and as such has my full attention. Stand by…
On top of this we made two new investments during the year: Go Vocab and The Rugby Site (one more thing that Richie McCaw and Ruby On Rails have in common!) We have high hopes for both as they continue to refine their product and business model over the coming year.
In August we completed a new iPhone App for StarNow, and just this week released v2.0 of the RadioNZ iPhone app, with live streaming and a bunch of other improvements.
And, after some false starts, we also have a couple of product ideas of our own which are under development. Hopefully at least one of these will surface in 2012.
It would be misrepresenting things to say we know exactly what it is going to be yet, but some of the blanks have been filled in, and in any case we haven't let that stop us getting on with trying a few things.
All of that makes it sound like a lot of fun. In reality, I spent a large portion of the year just drowning in email. I received 14,363 messages (not counting spam and junk mail), or 40/day on average. This is a 50% increase since 2010 and nearly three times as many as in 2009. I sent 6,765 messages, or 25% more than in 2010, despite consciously trying to reduce this. It doesn't seem particularly sustainable to continue to work this way.
I took a lot of coffee meetings too (but I still don't drink coffee). In the process I met some excellent people who are working on some exciting new ventures and a bunch of others who are probably going to struggle. I tried to give honest and practical advice to both.
I didn't blog as much as in previous years, with just 51 new posts, although 2,449 tweets made up for some of the difference. I'm especially proud of two series of posts – The Mythical Startup (which was also published in Idealog), and Founder Centric Startups.
I was featured in a business profile in the Dominion Post. Thankfully it was a very friendly article – so the only uncomfortable bit was posing for the photos (lesson: don't do this in front of a whole open plan office full of amused onlookers!)
It does feel a bit odd to still be talking about Trade Me in these sort of situations, given it's now years since I worked there. It was very cool to watch from a distance as they completed their IPO, and achieved a market capitalisation of over $1billion, although amusing to see media pundits say that we original shareholders obviously sold too cheaply, when at the time the same people thought David Kirk had gone slightly mad.
In between all of that there wasn't much time or space for anything else, to be honest.
However, I did try to keep moving…
In March I completed the Contact Triathlon race in Wellington in 2:41:35, (doing the final 10km run leg in 47:25). In case that sounds impressive it was more than 20 minutes outside of qualifying time for the World Champs.
In August I completed the National Duathlon Champs in Taupo, in the wind and sleet (the weekend it snowed everywhere!) I ran a fast opening 10km in 44:36 (as fast as I've ever run over that distance) but died on the bike leg and struggled home in 2:36:10, 13th in my age group and again well outside of the qualifying times.
As part of my training I did the Wellington Half-Marathon in June, also in pretty cold and windy conditions. This was the first time I had raced over that distance without a long swim and bike immediately beforehand, so I was more-or-less assured of a personal best time. Nonetheless I was stoked to get home in 1:44:11, a good 45 seconds ahead of a fast closing Koz!
I enjoyed some cycling in Wellington with PayPal founder Max Levchin, when Wellington had her best Autumn coat on, and a brisk/refreshing ride up Signal Hill in Dunedin with Julian Cox. Perhaps 2012 is finally the year for me to get into mountain biking?
I started the year at 73.7kg and finished at 75.3kg. The difference is explained by just 53 calories per day – or the equivalent of two small chocolates. You can tell from the graph when I got really busy with work.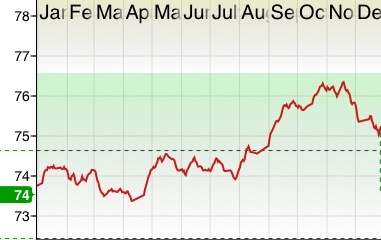 I really did keep moving…
According to TripIt I was away from home 113 days during the year.
I especially enjoyed two trips to San Francisco and Silicon Valley with Vaughan from Vend – including meetings on Sand Hill Road, and a guided tour of the Twitter HQ (thanks to Doug!) We even managed to squeeze in a ball game at AT&T Park.
But, of course, the big sporting event of the year was the Rugby World Cup. Highlights for me included watching Wales vs South Africa with my dad (the best crowd noise I've experienced at the Cake Tin since the Lions test in '05), All Blacks vs Canada with my oldest son (his first live test match, also the first time the ABs have played during the day since he was born), Tonga vs France with my new brother-in-law (a former Tongan player, both of us proudly wearing some official team kit he had been given) and the two quarter finals in Auckland. I watched the semi-finals and final from the comfort of my couch (from the very edge of said couch in the later case!)
In May I grew a beard, under doctors orders! After getting that prescription I had some nervousness about the strict definition of "in sickness and in health" but luckily Emily was understanding – even if it did overlap with our 10th wedding anniversary.
We made up for it with two great trips: to Mount Cook, and to Auckland to see the Foo Fighters, in the rain, at Western Springs. Maybe in 2012 we'll finally get around to a honeymoon?
There was a stark mix of happy and sad family times during the year.
We started the year in Perth, Western Australia, where extended family had gathered for a scorching Christmas and my sister's wedding, which was excellent. And, we ended it in Nelson, to celebrate some milestone birthdays with Emily's family.
In between times we welcomed a new nephew (my brother's first) and niece, but sadly farewelled my grandmother, the matriarch of our family and my last surviving grandparent, who died suddenly in April.
And so to 2012…
At this stage my rough plan is to keep running hard until Easter and then collapse into a comfortable chair and hibernate. We'll see how that goes!
How about you?
Previous Annual Reports: