2010 Annual Report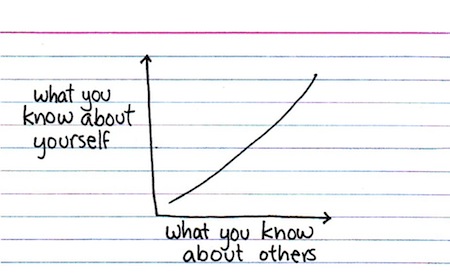 Image: Sociology by Jessica Hagy
It's become a tradition to publish an annual report here on January 1st.
This started off a couple of years ago as an attempt to answer for myself the difficult question: "what do you do?" Thankfully I don't stress as much about this anymore, even though I still don't have a succinct answer.
I finished in 2009 by saying:
I think the best I can hope for is that there will be another good collection of stories to share this time next year.
Actually the volume of stories isn't really what is has been in previous years. A lot of my time in 2010 has been invested in laying foundations (literally and figuratively) for projects that will hopefully form the basis for annual reports for a few years to come. As fun as that's been, foundations are not very interesting in and of themselves.
Travel
After all of the travelling I'd done in previous years, I started out expecting to do much less in 2010. In fact, I foolishly predicted that I wouldn't travel overseas at all.
That quickly went out the window in March when the opportunity came up to travel to Africa with Sam and Nina, and Kevin, Laura and Mahri from Mulago. We spent time in Rwanda, Uganda, Kenya and Zambia visiting some impressive non-profit organisations and getting up close to some amazing wildlife.
Sitting quietly in the bamboo forest at Parc National des Volcans, Ruhengeri and watching a family of mountain gorillas was definitely the highlight of the year. It was chilling to visit the crypt at Nyamata, where 10,000 people were killed during the genocide. It was fortunate timing to visit the Kings' Tombs in Kampala, Uganda, just a few weeks before they were burned down by protesters. It was stunning to share the dusk in Luangwa Valley with a large group of zebra and elephants and to sit while a small pride of lions walked in and out of our spotlight.
It was also excellent to spend some time with people like Martin from KickStart, Jake from Nuru International and Tevis from Komaza. It is a privilege to be in a position to be able to support their amazing work.
Then, in June I was honoured to be invited to attend the O'Reilly Foo Camp in Sebastopol, California. This is the original unconference. It was great to spend a few days there soaking up the accumulated knowledge from the daunting attendee list which included many of my tech heros. Combined with a pilgrimage to the Googleplex in Mountain View, an expert guided visit to the SFMOMA in San Francisco and the excellent company of the other kiwis who were attending it was a memorable trip (we won't mention my driving or the sat nav dramas).
And, as if to make a complete mockery of my initial travel prediction, we're ending the year in the smothering heat of Western Australia where the extended whanau have gathered for my sister's wedding last weekend.
In addition to those international trips I also completed 28 domestic trips. According to TripIt I spent 109 days away from home, which is a lot more than I would have guessed.
Included in that count are frequent trips to Auckland to visit Fishpond and Vend, two startup companies that I'm excited to be working with as an investor and advisor.
But, it wasn't all work. I also managed to squeeze in a few smaller travel adventures – not the least a great day jet boating up the Whanganui River to The Bridge To Nowhere with Jon, Lance and Mod.
I also continued the tradition of playing the world's great golf courses with my father and brother – adding Cape Kidnappers and Kauri Cliffs this year. When you play as inconsistently as I do they say it's important to enjoy the walk, which is always more difficult at these flash places where they typically prefer you to take a cart.
We saw U2 live in Auckland and enjoyed flying laps with Jonny Reid and Earl Bamber at Hampton Downs courtesy of Audi. Both had our ears ringing for a few days afterwards!
Health & Fitness
It's been a much quieter year for me in terms of physical challenges, after I completed the Taupo Half Ironman in December '09. Even so, I've still done quite a bit of "for fun" cycling and running, and the odd sea swim when time and weather have allowed. I've completed a couple of the standard distance Scorching Triathlon races in Wellington, and enjoyed racing in these without putting so much pressure on myself in terms of time or performance.
If any of you are tempted to include something like this amongst your New Year's resolutions, I definitely recommend the novice option that is available at these events (comprising a shallow, parallel-to-shore, 100m swim, 6km cycle and 1.2km run – very achievable). But, be warned, if you have the necessary competitive genes then it could lead to something much longer.
In the first few months of the year I dropped another 3.5kg. I now top the scales at around 73kg which is a number that would have seemed beyond the realms of possibility a few years ago. While it's easy to point to all of the physical activity, actually some permanent changes to my eating habits have made the biggest contribution. It's hard to imagine anything else I could have done for myself during this time which would have had the lasting impact that this hopefully will, so I'm obviously very pleased to have taken the opportunity.
I'm feeling fit and starting to get itchy feet for another event to aim for to get me motivated about training again, so who knows what 2011 holds in this respect.
Thinking Out Loud
I popped my head above the parapet a couple of times during the year. Firstly, speaking at Ignite Wellington and then as a playing favourites guest on the Saturday morning Kim Hill show on Radio NZ. In December I enjoyed speaking at the Summer of Tech Seminar Series about startup myths. I'm hoping to expand on some of that thinking here on this blog shortly.
Work
It's really been a year of two halves in terms of work. In the second half I finally got busy.
This is most obvious when you look at the volume of emails that have flowed in and out of my inbox: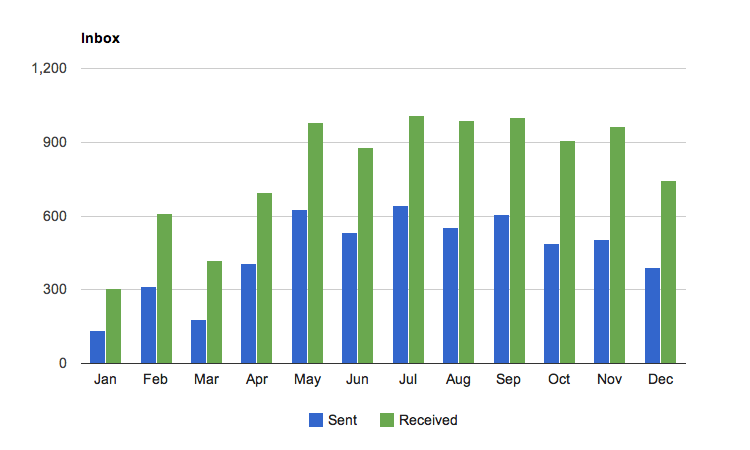 What happened?
Over the last couple of years I've invested in a number of early-stage companies. I've generally ended up with a small shareholding and no role in these businesses. When these sort of ventures go well, there is little reason to be involved and so little opportunity to learn from them. When they don't go well they are a lot of work for little/no return.
From this experience I learned that investing from arm's length doesn't really do it for me. I realised that I was not well set up to actually deliver on any interesting work as a one-man-band and, more importantly, had stopped doing what I am actually good at. I decided that continuing to do this sort of thing and expecting different results was silly.
At the same time the opportunity came along to do something together with Amnon, who was one of the impressive heads-up developers I hired at Trade Me and for the last couple of years the Creative Lead there, and Koz, who is part of the core Ruby on Rails team and probably the smartest developer I've crossed paths with.
We call our combination Southgate Labs and describe it as a software studio.
We hope it will be an interesting mixture of :
Ventures, that we can work on up to our armpits, taking a founder-centric approach and helping out however is required – e.g. Vend which we're working on with Vaughan … plus a couple of other exciting projects we have in the pipeline;
Client Work, to help us keep the lights on and to provide some cash to invest – e.g. we recently designed and developed the Radio NZ iPhone application;
Products, because we think you learn the most when you work on your own stuff directly – e.g. two interns we have working with us over summer recently took out the 'Best Newbie' category of the Mix & Mash competition with their Tax Receipt web app – and because we were curious and anxious to make our way up the learning curve for iPhone application development, we built and launched Top Three.
I'm happy and excited to be part of a team again. It's hard to imagine better people to work with on this sort of thing, so I'm definitely feeling optimistic about what we can do together. If the price to pay for that is more time spent on email, so be it.
We are already seeing lots of interesting opportunities, and hope to uncover even more. If you have something we should look at we'd love to hear from you.
I have no idea if this is going to work out the way we expect, but we're going to give it a good shot and hopefully have some fun in the process.
Bring on 2011…
Previous Annual Reports: