This is the next post in the Founder Centric Startups series.
Jon Thompson is the co-founder of Productspec. They first crossed my path in 2008 when they were the winners of the inaugural Cable Car Challenge (a business plan competition), although at that point they were already beyond business planning and well into the execution of their plan.
Like all good Irishman he's never short of a word, and is no doubt keen to tell you more about what they are up to, so let me not stand in his way…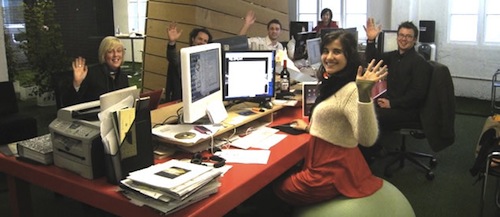 What's the purpose of your company?
We produce information technology designed to make the building industry more productive.
What does your company do?
Our business is split into two areas:
Productspec – The National Building Product Database – 60,000+ architecture, design, and building products online (launched Oct 2006)
Smartspec – Specification Writing Made Simple – Software as a Service (SaaS) tool used by Architects and Designers to easily create Project Specifications (launched Oct 2011)
What is the business model?
Product Manufacturers pay an annual subscription to list in Productspec and Smartspec.
Productspec is free for the public to access, although predominantly used by architects and designers.
Smartspec is a 'freemium' model – the free plan is suitable for 2/3rds of the industry (sole practitioners), the paid component offers access to New Zealand Standards and additional functionality, multi-user accounts, etc.
How do potential customers learn about you?
To promote Smartspec we're leveraging Productspec's extensive user database (direct marketing). Additionally, one of our shareholders, Construction Marketing Services (CMS) is actively promoting Productspec/Smartspec to their national specifier network via their 1:1 specifier meetings.
We're also running regional 'Smartspec Workshops' (10-20 users/prospects per session) to share knowledge and engage directly with our user-base.
How many customers do you have?
280 Product Manufacturers, 60,000+ site visitors per month to Productspec, 100 new specifiers per month joining Smartspec.
Who are the people working with you on this?
My (now) wife, Este, and I founded Productspec and initially contracted a dev shop to build the site. We quickly realised that we needed in-house permanent technical staff so soon after launch we asked Chad (the guy that built the site) to join our team (after all, he knew the infrastructure better that anyone else). Five years down the line he's still with us and is complemented by our all-important Auckland-based Sales Team, plus technical, financial, design, and support staff in the Wellington office.
How did the business get started?
Este was working in Architectural practice, I was teaching Architecture at Vic Uni. We both wanted to work on a project that lasted longer than a few weeks or months so the world of business where we could grow, steer, and govern our ideas and energy was highly attractive. The business concept came from recognising the existing (and highly manual) traditional industry practices and understanding that there should be a better way.
How have you funded your growth so far?
Family and savings funded our initial growth and we're proud that we were in a position to repay family within 3 years of launch.
Our primary growth strategy has always been to rely on our customers' investment (i.e. sales!) so we've always had a huge focus on clear value proposition and effective selling.
What are the mistakes you've made?
We've gone off on a few 'related' tangents which were not financially astute though seemed good ideas at the time. With hindsight we can attribute any failures to a lack of market validation.
What are the biggest challenges you've faced so far?
As founders, learning to recognise our skills has been fun. Both Este and I are 'from the industry' and whilst this is a great base, it's not necessarily best for business – i.e., we're not accountants, sales people, or overly IT literate. Interestingly, Este naturally took on all the back-end responsibility (accounting, project management, analytics, etc.) and I happily took on the front-end activity (client liaison, sales, marketing, business development, etc).
What's your ambition for the company?
For our system to work harder than us..!
What advice do you have for other founders?
Build a well-rounded team (and/or Advisory Board) with complementary skills.
Understand your client: If someone's not paying then they're the product, not the customer.
It's not the big that eat the small, it's the fast that eat the slow – so rapidly build products/systems, get market validation, then tweak, tweak, tweak till perfect. And if you're going to make mistakes, make them quickly!
Other guest posts in this series:
Dr Sam Hazledine, MedRecruit, 5th December
Dave ten Have, Ponoko, 6th December
Marie-Claire Andrews, SmartShow, 7th December
Nik Wakelin, MinuteDock, 8th December
Vaughan Rowsell, Vend, 9th December
Andrew Mayfield, Optimal Workshop, 10th December
Richard Humphries, Trade Tested, 11th December
John-Daniel Trask, Mindscape, 12th December
Layton Duncan, Polar Bear Farm, 13th December
Dan Lee, Beetil, 15th December
Jos Ruffell, Garage Project, 16th December
Scott Ryburn, Sharesight, 18th December
Michael Dowse, Go Vocab, 19th December
Jon Thompson, Productspec, 20th December
Tarik Mallett, Third Screen Interactive, 21st December
Rich Chetwynd, Litmos, 23rd December