This is the next post in the Founder Centric Startups series.
Scott Ryburn is the co-founder of Sharesight, an online tool to help share market investors manage their portfolio.
Many great ventures get started when a founder scratches their own itch. This is a good example.
I asked Scott to tell us a little more …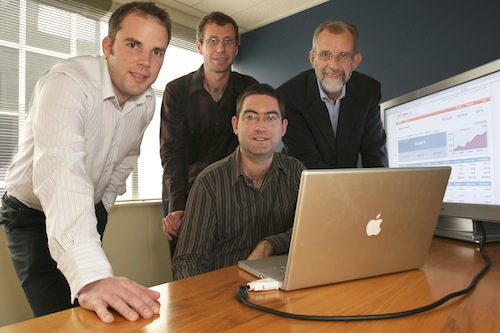 What's the purpose of your company?
Sharesight's purpose is to make managing a portfolio an efficient, enjoyable, insightful and rewarding experience for self directed share market investors.
What does your company do?
Sharesight provides portfolio management software for share market investors. Sharesight's provides a range of tools and reports to give investors insight into the true performance of their portfolios and take the cost and hassle out of tax and compliance reporting. Sharesight automates most of the routine data entry required to maintain a portfolio. For example as well as updating share prices, dividends, bonus issues and share splits are recorded automatically. Sharesight can automatically import trading data from a variety of online brokers. Online portfolio sharing functionality and a connection to Xero enables a more efficient and meaningful relationship between individuals and their accountant or tax advisers.
What is the business model?
Sharesight is a subscription based software as a service product. Our 'Investor' package is the most popular subscription and is priced at $19/month for the NZ version or $25/month for the Australian version. Our top tier 'Expert' subscription is $39/month. We have just (as of this week!) moved to a freemium strategy by replacing our low end $5/month 'Starter' subscription with a free plan. Our previous Starter plan was our least popular plan with feedback indicating that customers thought it was too expensive and too restrictive (we receive virtually no complaints about the pricing of our other subscriptions). The new free version offers substantially improved functionality over the previous Starter plan. We believe that with the introduction of the new free plan, Sharesight will be accessible to all levels of investors. We do not derive revenue from any other sources, for example there is no advertising on Sharesight.
How do potential customers learn about you?
Initially we focused purely on marketing the service directly to individual investors. Customers learn about us through search, online advertising (primarily Google adwords), or via articles written in the media (an early feature article in the Dompost Business Day being one of the most successful). Google adwords has been the most consistent and reliable form of advertising we have done to date. We did all our own PR initially with moderate success. More recently we have engaged an Australian PR firm to assist with PR Activity in Australia. We have also been reviewed and promoted (free of charge) by a couple of subscription newsletters which offer advice and recommendations to share investors.
More recently we have additionally been exploring partnership opportunities with related organisations, in particular online brokers (who are keen to enhance and differentiate their service by partnering to provide better online software to their clients) and accountants (who traditionally struggle to get accurate client portfolio data in a useful format).
Who are the people working with you on this?
There are now eight people involved in the business. My father Tony and I founded the business along with local software developers Nigel Ramsay and Marcus Baguley. We also have an additional full time developer as well as Marketing and board level input from Terry Allen who represents our NZ investors, and two staff in our Sydney office (investor and Executive Director Andrew Bird, and a business development manager). We also have a summer of tech design intern working with us over summer.
How did the business get started?
The idea came from my father, as keen share market investor he couldn't find any decent software to help him manage his portfolio and comply with NZ tax reporting requirements. I also began searching for a solution for him but couldn't find anything. This left him doing what everyone else we knew seemed to be doing – recording everything manually in a spreadsheet.
Eventually we decided there must be a better way and set out to investigate building a commercially viable solution. Step one was to approach someone in the industry for advice, in our case this was Rod Drury who was generous enough to invite us to his house one evening after work for a crash course in founding a software business. On Rod's recommendation, step two was to approach local designer Hayden Vink who collaborated with us to design a series of wireframes and screen mockups. We considered engaging in some more formal market research but were not convinced that we could get meaningful results without spending a lot of money so we opted instead to build a lean mean prototype, get it out there and see what happened. We approached a number of developers (both independent contractors and small firms) but recognised that ideally we needed developers to be co-fouders in the business rather than contractors. Hayden introduced us to Michael Koziarski, who introduced us to Nigel and Marcus. They were keen to develop v1 of Sharesight on a sweat equity basis, so with a modest amount of startup funding from my father we spent six months or so building Sharesight to a point where we could begin acquiring our first customers.
How have you funded your growth so far?
We were self funded initially but quickly realised that we were going to need more cash to accelerate the business to reach it's full potential. We also recognised that a significant opportunity was present in the Australian market but Sharesight required more development to capitalise on this. We approached a number of investors and eventually received seed funding through Sparkbox and NZVIF.
The funding allowed us to build out the Australian version of Sharesight and brought Sharesight to the attention of Australian investor (and ex-Morningstart CEO) Andrew Bird. We completed a second investment round through Andrew and his business partner at the start of this year.
How did you solve the problem of starting a venture and having a job?
For me this was a combination of living off savings, delaying ambitions to buy first house and financial support from family. I'd already bitten the bullet and given up my day job to work on another venture that ultimately didn't take off.
What are the mistakes you've made?
I think generally we managed to make the right decisions when it counted. Although it worked out well for us in the end, I think we should have planned further in advance around getting our first round of investment, which was a more lengthy and distracting process than we imagined.
What are the biggest challenges you've faced so far?
Marketing the product has definitely been the biggest challenge. We found it very hard to get traction in Australia until this year when we were able to get staff on the ground over there. As a small, newly established company we've also had to work hard at building credibility our in the market.
What's your ambition for the company?
We want to change the industry so that investors have a real, credible, and dramatically cheaper alternative to costly managed services such as wrap platforms. Our focus is in Australasia at present, but ultimately we think the same sorts of opportunities exist further afield.
What advice do you have for other founders?
Make sure your company addresses a problem or need that really exists.
Build a team that believes in the what you are doing and is prepared to take on some risk in order to share in the rewards (at least in the early stages).
Be prepared to be in it for the long haul and stick it out during tough times. Very few companies are overnight successes, they take hard work and dedication.
Know your weaknesses and try to build a team with a range of relevant skills
Put some hard work on the line to build a product and demonstrate potential before seeking funding.
Don't waste too much time or make too many sacrifices chasing business grants etc, focus on your core business first and foremost.
Take advice from others, but ultimately do what you feel is right. There is no secret formula and every business is different, what works for someone may not work for you. You know your business better than anyone, so back yourself to make the right decisions.
Other guest posts in this series:
Dr Sam Hazledine, MedRecruit, 5th December
Dave ten Have, Ponoko, 6th December
Marie-Claire Andrews, SmartShow, 7th December
Nik Wakelin, MinuteDock, 8th December
Vaughan Rowsell, Vend, 9th December
Andrew Mayfield, Optimal Workshop, 10th December
Richard Humphries, Trade Tested, 11th December
John-Daniel Trask, Mindscape, 12th December
Layton Duncan, Polar Bear Farm, 13th December
Dan Lee, Beetil, 15th December
Jos Ruffell, Garage Project, 16th December
Scott Ryburn, Sharesight, 18th December
Michael Dowse, Go Vocab, 19th December
Jon Thompson, Productspec, 20th December
Tarik Mallett, Third Screen Interactive, 21st December
Rich Chetwynd, Litmos, 23rd December